Today Swedish blackened death metal legends NECROPHOBIC release the second single, "The Infernal Depths of Eternity", of their undoubtedly most diverse and elaborated album to date which is entitled "Dawn of the Damned" and will be released on October 9th, 2020 via Century Media Records worldwide.The stunning video for "The Infernal Depths of Eternity" was created by Costin Chioreanu. Watch it here:https://www.youtube.com/watch?v=CGOJO986roE&feature=youtu.be NECROPHOBIC comments:"Necrophobic and Costin Chioreanu have worked together to bring out the very essence of the new album 'Dawn of the Damned'. We wanted to visualise the phases of the opening of the third eye. The serpent's awakening and the traveller's shift from flesh to soul.The song 'The Infernal Depths of Eternity' is the continuation of 'Mirror Black'. Where the album's first video is about the gateway to the other side, this second video is about when we make contact with the spirit realm through the devil's crown.We could not be happier with the result. Costin's video art matches the vision we had when writing the songs just perfectly!"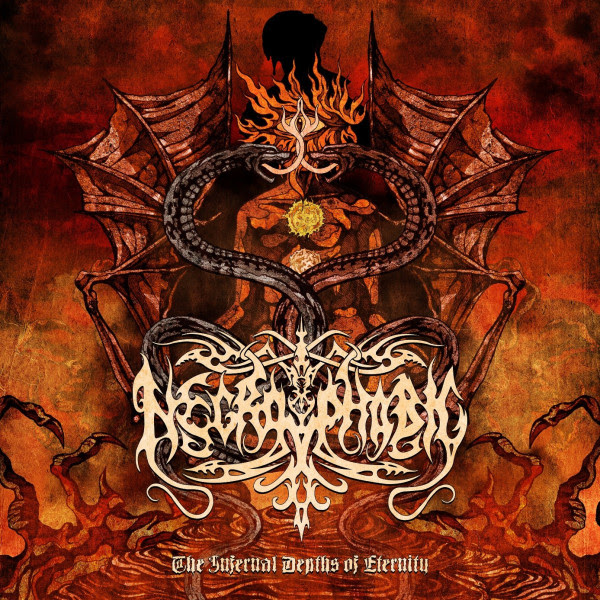 "Dawn of the Damned", which was recorded and mixed by Fredrik Folkare (Unleashed, Firespawn, etc.) and which once again comes with artwork by Kristian "Necrolord" Wåhlin, will be available as Ltd. 2CD Mediabook & Patch, Gatefold colored & black LP with LP-Booklet & Poster, Standard CD Jewelcase and Digital album and is ready for pre-order here:https://necrophobic.lnk.to/DawnOfTheDamned The album's limited coloured vinyl options are the following:Transp. Magenta vinyl: CM Webshop – 100x copiesClear vinyl: CM Distro – 200x copiesTransp. Petrol Green vinyl: Cudgel – 200x copiesTransp. Orange vinyl: EMP – 200x copiesTransp. Blue vinyl: Nuclear Blast – 200x copiesTransp. Sun Yellow vinyl: Sound Of Records – 200x copiesTransp. Red vinyl: Band Webshop – 200x copies http://shop.necrophobic.net
"Dawn of the Damned" Tracklisting:AphelionDarkness Be My GuideMirror BlackTartarian WindsThe Infernal Depths of EternityDawn of the DamnedThe ShadowsAs the Fire BurnsThe Return of a Long Lost SoulDevil's Spawn Attack
The previously released "Mirror Black" EP can be ordered here: https://Necrophobic.lnk.to/MirrorBlack
Do not miss the chance to see NECROPHOBIC live on stage:
Necrophobic live:
———————-
24/10/2020 Braincrusher in Hell – Hirschaid – Germany
30/10/2020 The Crypt / Klubb Hellion – Linköping – Sweden
13/12/2020 Carioca Club – Sao Paulo – Brazil
28/01/2021 Plan B – Malmö – Sweden
29/01/2021 Valand – Göteborg – Sweden
30/01/2021 Slaktkyrkan – Stockholm – Sweden
22/05/2021 Vienna Metal Meeting – Vienna – Austria
29/05/2021 Maryland Deathfest – Baltimore – United States
24/07/2021 Baden in Blut – Weil am Rhein – Germany
13/08/2021 Alcatraz Metal Fest – Kortrijk – Belgium
11/09/2021 Meh Suff Fest – Hüttikon – Switzerland
25/09/2021 Metal Italia – Milan – Italy
And more shows to be announced soon…
With thirty years of active, nefarious service under their bulletbelts, NECROPHOBIC are undisputed legends of the death and black metal underground. Formed in 1989 by drummer Joakim Sterner, the Stockholm blackhearts propagated a singular and fearless vision from the very start, confirming their prowess with now legendary debut album The Nocturnal Silence in 1993.
Despite numerous line-up changes and moments of turmoil, NECROPHOBIC's dark light has never dimmed. As a result, when the band's most efficacious line-up reconvened for 2018's "Mark Of The Necrogram", it was obvious to fans and critics alike that the Swedish quintet were back to the blistering form that first cemented their reputation. With guitarists Sebastian Ramstedt and Johan Bergeback back in the fold after a five-year hiatus, it was a self-evident career peak for all concerned. Not just the best sounding record of the band's career, but one of the most monstrously dramatic and destructive records of the decade, it made the prospect of the next NECROPHOBIC album even more mouth-watering. Fast forward to 2020 and chief songwriter Ramstedt has summoned another breath-taking eruption of otherworldly malice, this time bearing the title "Dawn of the Damned".